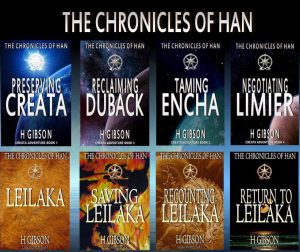 In 2010, I wrote "Hello World" on my very first blog on Blogs24.
Then we progressed to gmail platform Blogspot in 2013 when Blogs24 closed down. Blogspot is still available with most of the content that could be found on my original websites. https://chroniclesofhanstorm.blogspot.com/

As of interest, my private website had been hacked several times, including April 2021, totally destroyed for whatever malicious contentment could be gained from trashing a little known author's website. 

And now we are here, again, for an author should have a website, for whatever it is worth. This time I am not going to pour my heart and soul into it. I have done so in the previous versions of my websites. All content can be found in my books in any case. 
Appropriate pages relating to my written works will be added as time allows. 

Yours sincerely
H Gibson
Author, The Chronicles of Han Storm Book Series
https://www.smashwords.com/books/byseries/38696