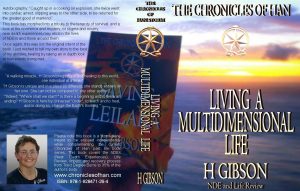 Living a Multidimensional Life – NDE and Life Review
(Han Storm: The Chronicles of Han: #1 of Living a Multidimensional Life)
by H. Gibson (Goodreads Author)
Living a Multidimensional Life is the autobiography of author, H Gibson relating her NDE, Life Review, recovery and aftermath of sustaining 3rd degree burns to 35% of her body.
NDE – Living a Multidimensional Life #1
email address
If you are easily offended by, not interested in, or unsympathetic towards metaphysical experiences, this book is not for you.
If you fear death or wish to know what happens when you die, please go ahead and read this book. Just keep an open mind and heart.
This book is meant to be enjoyed independently while complementing the current Chronicles of Han Past Life book series. This book covers the NDEs (Near Death Experiences), Life Review, impact, and recovery process from Third Degree Burns to 35% of my body.
The original book had been compiled from memory, diary entries, and visits to the Akashic Records.
After many years it was finally completed in 2018 and presented to the editor, selected beta readers and other interested parties.
Unfortunately, the original work was found to be unsuitable to share with this world in its unabridged form. It was advised to rather rewrite this Chronicle into a more reader friendly version.
After long discussions and advice that I should put myself back into this book as I do with my Past Life books, this new version of my NDE book has morphed into a tribute to the tenacity of survival, and a brief look at the reverence and mystery, or stigma and misery, near death or death experiences may elicit in the lives of NDErs and those around them.
Once again, this was not the original intent of the book. I just wished to tell my own story to the best of my abilities, healing by taking an in-depth look at how events transpired.
Looking over these events, it is interesting to note that Divine planning had already been on the cards and was being executed like a well-organized plan.
Some people say this accident must have been a pre-ordained event, while others still wonder about the choices I made that evening. We have our suspicions but will never really know as I had two choices and chose not to go out for dinner, leading to this event.
With the self-forgiveness this scrutiny brought, I can now finally leave this chapter in the past and move forward with the rest of my life.
H Gibson, Author, The Chronicles of Han
TABLE OF CONTENTS
Section 1: Near Death Experience, Life Review,Aftermath
*** Legal Responsibility ***
*** About this book ***
*** Living A Multidimensional Life ***
*** Foreword ***
*** One ***
Friday, March 5, 2004, NDE at age 33
*** Two ***
*** Three ***
Entering The Land of The Golden Light
Heaven
Portals
Time
Life-Review
Opt-Outs
Celestial Beings
Questions about NDEs
NDE – Near Death Experience
NNDE – Near Near Death Experience (Medically Unconfirmed)
DE – Death Experience
OBE – Out of Body Experiences
AP – Astral Projection, Astral Walking, Conscious OBE
STE – Spiritually Transformative Experiences
Remote Viewing / Consciousness Shifting
Split Consciousness / Partial OBE
Note from author
Start of my Life-Review – Childhood
Transition
Early Adulthood
Wishes do come true
Reincarnation Ethics
Early Marriage and Life challenges
The wedding
Trusting the Process of Life
Life Happens
Returning to my Soul-Roots
Obvious Instructions
Meeting my Healer Guide
Issues with old boyfriends
Being Reprimanded by YourSelf
Previous Near Death Experiences
NDE/OBE at Age 3
NDE/OBE at Age 18
NDE/OBE at Age 28
NDE/OBE at age 32
Becoming MySelf
*** Four ***
Saturday, March 6, 2004
Doctor Discussion
Mysterious Visitor
Morphine versus Energy Healing
*** Five ***
Sunday, March 7, 2004
*** Six ***
Monday, March 8, 2004
*** Seven ***
Tuesday, March 9, 2004
Wednesday, March 10, 2004
Thursday, March 11, 2004
Friday, March 12, 2004
*** Eight ***
Saturday, March 13, 2004
Monday, March 15, 2004
Tuesday, March 16, 2004
Wednesday, March 17, 2004
*** Nine ***
Thursday, March 18, 2004
Friday, March 19, 2004
*** Ten ***
A new normal
Meeting a South African Icon
Death and Life
*** Eleven ***
Aftermath
*** Twelve ***
Paranormal Activities and Metaphysical Gifts
How I met my Dark Guardian
Protection Energy
Mediumship
Losing Family Members
Guiding Them Home – Stuck Between Worlds
Guiding Them Home – Death of an Atheist
Unsolicited Visits
Reintroduction to Reiki
Pets and the Afterlife
*** Thirteen ***
A New Adventure
*** Epilogue ***
*** Reference Notes ***
*** About H Gibson ***
*** Other Titles in the Chronicles of Han Storm Series ***
Behind the Scenes Blog Booklet
Preserving Creata
Reclaiming Duback
Taming Encha
Sovereign Dōhr
Negotiating Limïer
Opening Almeria
Engaging Chlophilia
Leilaka
Saving Leilaka
Recounting Leilaka
Return to Leilaka